Originally published HERE.
January 21, 2014
ART WITH A CAUSE
By CARMEN HONG and ANN-MARIE KHOR
Pictures by DAROLD WONG
brats@thestar.com.my
THROUGH a self-enrichment programme and a mutual love for the arts, four different individuals – who barely knew each other two months ago – came together to make art and give back to the community.
The inaugural exhibition, which was held at Wisma Dicklin in Bangsar, Kuala Lumpur, started off as a common dream shared among four emerging artists: Alaa Bashiti, Lena Lim, Dymphna Lajuran and Alvin Chan. As the foursome would meet every week at the same restaurant at the same table, the art exhibition was named Table 312 – the table that they shared.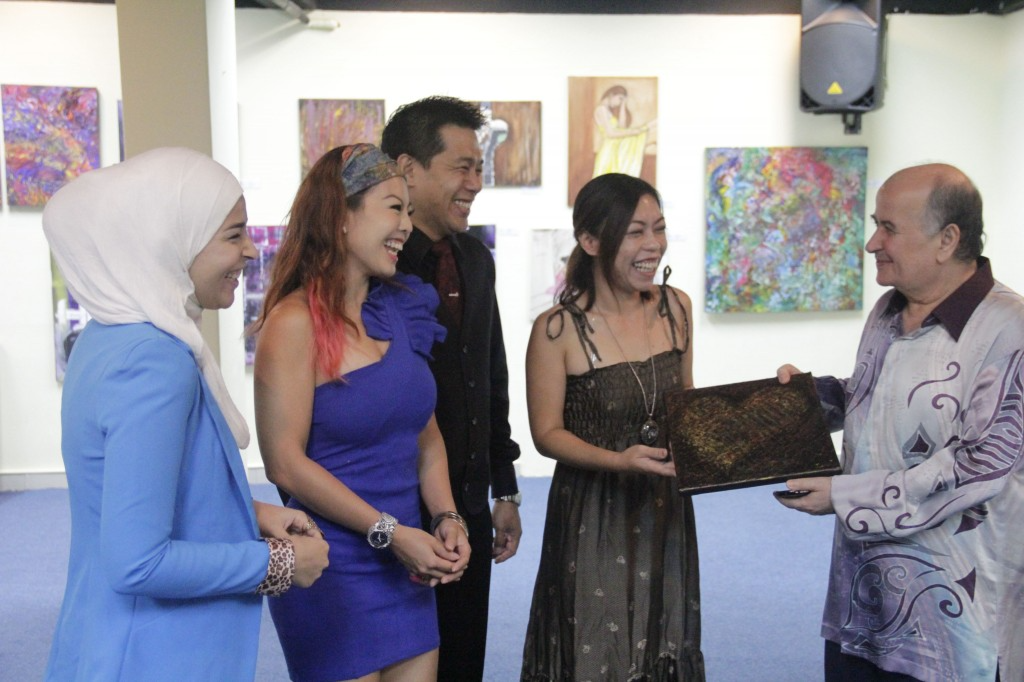 Alaa Bashiti, Lena Lim, Alvin Chan and Dymphna Lanjuran presenting an art piece titled "Colours Of Love" to Palestine ambassador Abdelaziz Abughoush during the Table 312 art exhibition.
The pieces of art displayed during the exhibition were up for sale, and 20% of the proceeds was channelled to Ephratha Home, an orphanage in Rawang, Selangor. Alaa said that while planning Table 312, they decided to do some good as well.
"We wanted to do something where we could give back to the community, especially underprivileged children," said Alaa.
Lajuran noted that their visit to Ephratha Home before the exhibition enabled them to spend time with the children.
"The home was rundown and in dire need of funds. Yet, there was so much love between the caretakers and children. We wanted to show the kids at Ephratha our love and support," said Lajuran.
Alaa, an interior architect, was excited at the prospect of displaying her artwork in public.
"I've always loved art since I was a kid, and it was my dream to display my work in an exhibition," said the 25-year-old.
She has no problems juggling her day job, studying for her Masters degree (she's pursuing Architecture and Built Environment at Universiti Islam Antarabangsa) and making time to paint for the exhibition.
"I'm so happy that I managed to finish my pieces three weeks ahead of schedule!" exclaimed Alaa.
Chan only started painting six months ago, and found he has a passion for art.
"I never thought I could draw, until recently, when I decided to give painting a try. After my second attempt, I realised I like the idea of creating something and being able to paint my emotions. If I'm passionate about something, I'll find the time for it," said Chan, who works in the corporate communications department of an oil and gas company.
Kadazan lass Lajuran believes that art is an expression of emotions and a channel for her to speak out where words fail.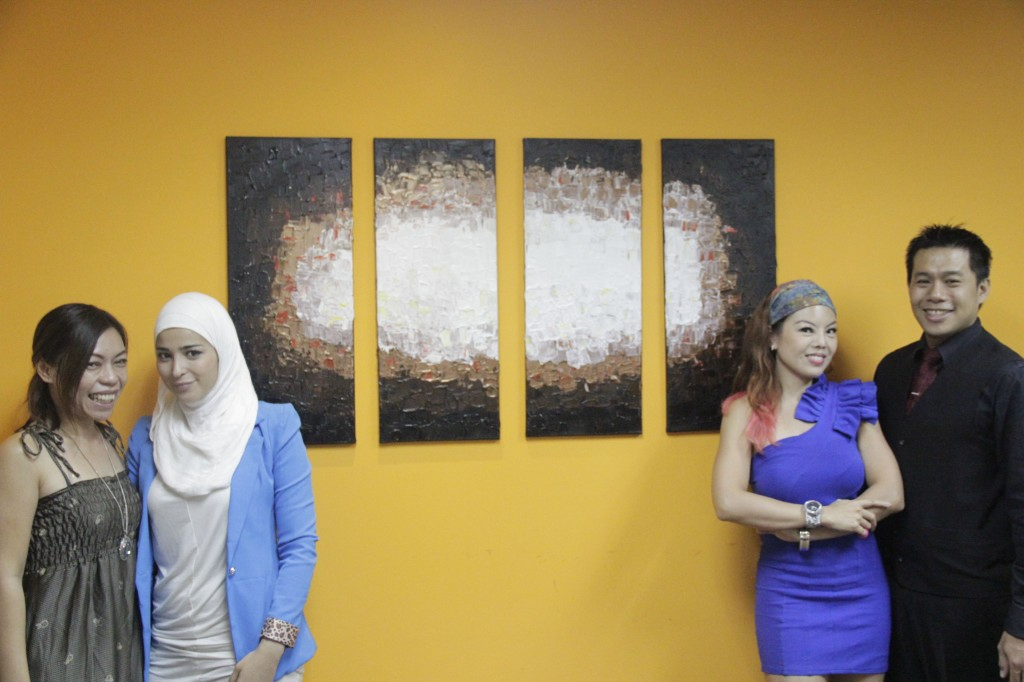 Dymphna Lanjuran, Alaa Bashiti, Lena Lim and Alvin Chan collaborated on this art piece, "Illumination", which is a tribute to the training centre that brought them together.
"I paint with the message that it's going to be okay, no matter what happens in our lives. Eventually, we will rise above it all," said the ex-lawyer.
Lim also hopes that her paintings will empower and encourage others to embrace art as a passion.
"Through this exhibition, I hope others can see that if I can paint, they, too, can paint!" exclaimed Lim.
Lim, whose works have been exhibited in the See Me Gallery in Long Island, New York, believes that art is not just about techniques and the different painting styles.
"There are no mistakes in art, as you can always experiment with the different elements, see what happens and improvise. It's the same with life, too," added the freelance marketer.
When asked about future exhibitions and plans for the group, Chan quipped: "Well, you'll just have to look out for it on our Facebook page!"